Daily care at home and regular dental visits are vital for keeping your mouth healthy. It's important to start good habits early!

Tooth decay or cavities, also called dental caries, is the most common chronic childhood disease. It's almost entirely preventable. Tooth decay is caused by bacteria in your mouth. These bacteria produce acid. The acid removes important minerals from the outer protective layer (enamel) of a tooth, causing a cavity. If not treated, a small cavity can grow without a parent knowing. As it grows, it can cause pain and infection. The goal is to catch cavities before they start or when they are still small and easy to treat.


Early childhood cavities (caries)
| | | |
| --- | --- | --- |
| Normal healthy Primary teeth | | |
| Chalky white spots | | |
| Brown spots | | |
| Severe decay | | |
Parents, and anyone taking care of a baby, share almost everything with them. This includes the bacteria that causes cavities. It can happen every day through normal loving behaviors such as:
kissing a child on the mouth
sharing utensils, cups or toothbrushes
cleaning off a pacifier or bottle with your mouth
The best way to fight the spread of bacteria is for all family members to see the dentist regularly as well. Dental visits and good in-home care will lower the number of bacteria in the mouth. This lowers the risk of sharing bacteria with any child(ren). A healthy mouth is a family affair.
Help prevent tooth decay with:
Regular dental exams
Good oral care at home
Mouth-healthy nutrition
Fluoride
Sealants
Children should visit a dentist when their first tooth appears, or no later than the first birthday. Baby teeth play a very important role, because they:
Save space for the permanent teeth that are growing under the gums
Help young children chew their food and form their first words
Frame the child's face and improve self-esteem
Caring for infant teeth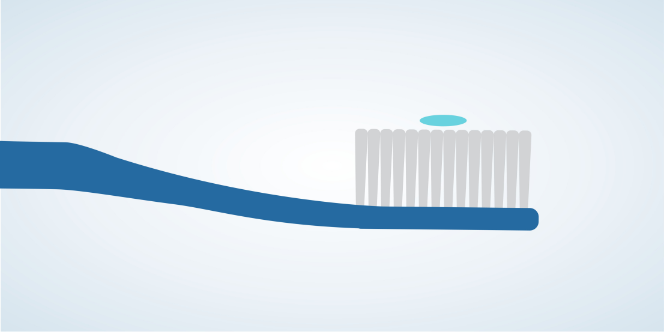 Use a rice-sized amount of fluoride toothpaste for children under age 3.
Help prevent tooth decay in infants by adopting the following healthy habits:
Use a soft cloth to clean your baby's gums. Do this until their first teeth come in.
Prevent prolonged contact with sugars in formula and breastmilk.
Remove a bottle from your baby's mouth before he or she falls asleep.
Clean your baby's first teeth with a soft-bristled baby toothbrush twice a day, using fluoride toothpaste.
Use a rice-sized amount of fluoride toothpaste for children under age 3.
Start flossing your child's teeth when he or she has teeth that touch each other. Plastic flossing tools may be helpful.
Introduce cups for drinking milk or water at 12 months or earlier. By this age, frequent bottle feedings with juice or any sugary liquids — and even milk when given in a bottle too often — can make a child more likely to develop tooth decay.
At night, fill the bottle with plain water if needed.
Keep your own teeth and mouth healthy so you are less likely to transfer these bacteria to your baby.
Caring for children's teeth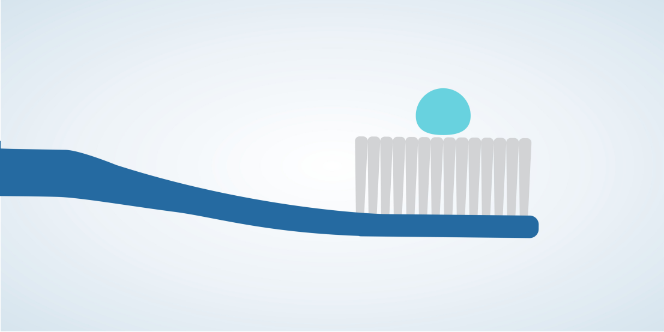 Use a pea-sized amount of fluoride toothpaste for children over age 3.
Although some children quickly learn to brush their teeth, they will still need help to make sure spots aren't missed. Most children benefit from support until the age of 8. Some ways to help your child with brushing and flossing their teeth are:
My, what big teeth you have! Many children have a favorite stuffed animal or action figure. Use the toy to explain why it's important to brush. Then, have your child brush the toy's teeth after brushing his or her own teeth.
Teach by example. Brush your teeth together. You can also take turns brushing each other's teeth.
Time is on my side. Use a timer or hourglass to ensure brushing for at least 2 mins or brush your teeth along with a favorite song until it's over.
Help prevent tooth decay in young children by adopting these healthy habits:
Brush twice a day.
Floss once a day — plastic flossers are easier.
For children over 3, use pea-sized fluoride toothpaste.
Serve healthy snacks.
Caring for teen teeth
Continue regular dental checkups and home oral health care habits. Encourage the good habits they started as children to continue:
Brush twice a day for at least two minutes each time, and floss daily.
Limit candy and soda: Try and keep healthy snacks like fresh fruits and vegetables in the house.
Talk to your teen about tobacco use (smoking, e-cigarette, chew, vaping).
Use a mouth guard for sports.
Be careful with mouth piercings since they can cause infections, chip, or break teeth.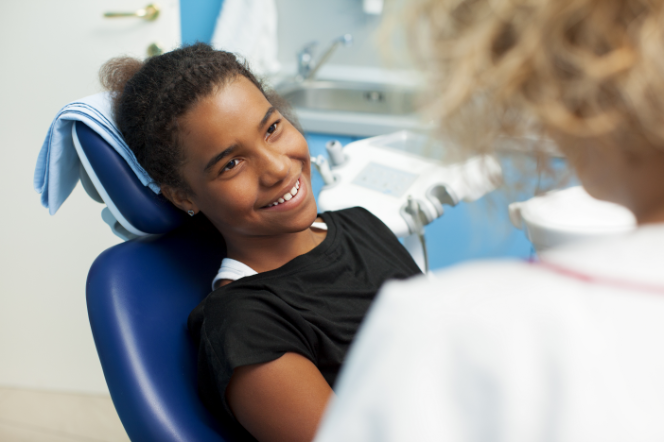 Preventing (Dental) Injuries
Ouch! Protect your teeth! Preventing injuries to your child's mouth and face is especially important if they play sports or participate in any other recreational activities where injuries may occur. A mouth guard is an important piece of gear that should be part of a child's standard equipment from an early age. Mouth guards greatly reduce the risk of broken teeth and injuries to the lips, tongue, face or jaw. Many different types of mouth guards can be found and purchased at sporting goods stores or drugstores. It's less important which type of mouth guard you choose. Making sure it fits properly is key!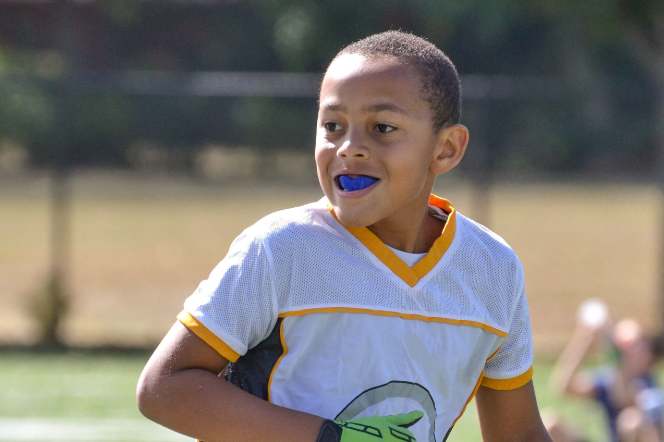 Fluoride
Fluoride is a mineral that helps strengthen teeth and prevent tooth decay. It may be found in local water supplies, toothpaste and other dental care products. Brushing your teeth twice a day with toothpaste that contains fluoride is best. Dentists recommend using a rice-sized amount of fluoride toothpaste for children under age 3. For adults and children older than 3, a pea-sized amount of fluoride toothpaste can be used when brushing.
If you or your child has an increased risk of developing cavities, your dentist might recommend additional sources of fluoride. These may include a fluoride mouth rinse, prescription fluoride toothpaste or supplements, or more frequent applications of fluoride at your dental office.