Provider Spotlight: Tillamook County Community Health Centers (TCCHC)
Jun 6, 2023, 16:46 PM
Piloting Innovation, Breaking Down Barriers, Offering Oral Healthcare to the Masses
A Dental Van Pilot
"We're doing great things. People in rural areas have access. This is huge."
– Dawna Roesener, Dental Manager, TCCHC
Tillamook County Community Health Centers (TCCHC) serves a region spanning over 1,300 square miles that is home to roughly 27,000 inhabitants. The area's expansive geography is a barrier to residents obtaining local services.
Columbia Pacific and CareOregon Dental have partnered with TCCHC to overcome this barrier. The Dental Van Pilot Program is an extension of TCCHC's brick and mortar dental clinic, widening the service delivery area across the county to locations which do not offer dental care in traditional office settings. Van services increase access points for triage and maintenance, urgent and comprehensive services, and more.
"I am really surprised by the community's reaction to it, and how grateful the community is that they don't have to drive an hour each way for dental." – Dawna Roesener
The dental van functions in alternative settings like community events and parking lots, and hosts Baby Day signups, screenings, and offers dental care coordination. The team frequently partners with likeminded organizations, such as Care and Houseless Connect, to serve their overlapping community member populations. Pilot design includes staffing a dental van driver, a dentist, an EPDH, and a bilingual care coordinator. TCCHC staff's palpable excitement is surpassed only by the community's warm welcome and gratitude.
Recently, a patient residing in a local houseless community was in extreme pain. He located the van at a Houseless Connect community event and saw a dentist for help that day, leaving afterwards in grateful tears.
Innovation continues to empower the changing tides, we are finding ways to treat those in need, and the good word on oral health is spreading. Thank you TCCHC for your partnership and the wonderful, important work that you do!
"People are out there suffering. There's such a need.
We are thrilled we can use our resources to bring them some relief." – Dawna Roesener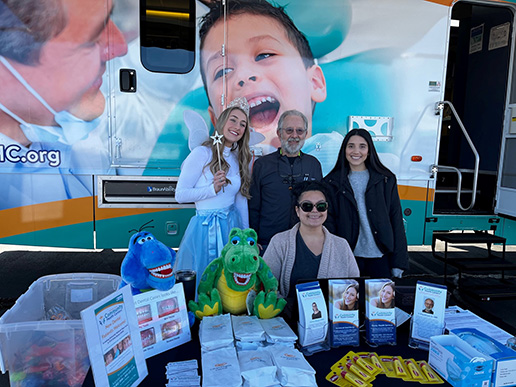 Pictured:
Kura Putman, dental school volunteer & Tooth Fairy
Sam Benanti, Dentist
Sandra Morales, Dental Public Health Representative, bi-lingual
Juanita Dial, Dental Public Health Representative, bi-lingual